Corfe Castle Gift Shop & Gallery Inspired by the Countryside & Coast. Use code 'scent25' for 25% OFF HOME FRAGRANCE!
Login
Log in if you have an account
Dont have an account? Register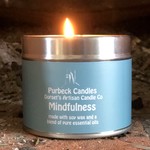 Purbeck Candles
Hand-poured Natural Candles, Reed Diffusers and Oils
Pheadra started Purbeck Candles by melting soy wax on an aga in an old cottage overlooking Corfe, and to this day her products are still made from 100% natural vegetable wax and essential oils.  This creates a natural, rounded fragrance that cannot compare to a man made one.  It is like the difference between wearing cotton and polyester. 
There is now a range of beautiful scents to suit every mood.  As Phaedra herself says 'Creating these blends lifts my spirits on a daily basis, I hope they will help to lift yours.  Light a beautiful candle and think happy thoughts'
We use cookies to ensure you get the best experience on our website. Is this OK?
Yes
No
Learn more »