Gift Shop & Gallery Inspired by the English Countryside & Coast
Login
Log in if you have an account
Dont have an account? Register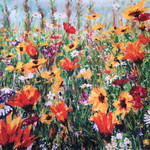 Andrea Hook Art & Art Gifts
Original art, prints and art gifts, in stunning, jewel-like colours and thick textured paint.
Dorset artist Andrea's passion for colour shines through with her wonderfully vivid depictions of wildflowers using impasto paint applied with a painting knife. She starts by washing layers of acrylic paint over the surface, then sculpts thick paint over the top to create the shapes of petals and leaves. Stalks are simply scratched through, revealing the multilayers of paint beneath. 
Her work has a lovely vibrancy, and texture, and translates very effectively onto the vegan suede cushions we sell.  We also have a range of originals and framed prints for sale, the smallest of which we list on our website.  These 'Mini Originals' are jewel-like miniatures which make the perfect gift, whether singly or in pairs, threes or even a block of four.
We use cookies to ensure you get the best experience on our website. Is this OK?
Yes
No
Learn more »