Gift Shop & Gallery Inspired by the British Countryside & Coast
Login
Log in if you have an account
Dont have an account? Register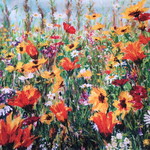 Andrea Hook
Original Art, Prints & Cards
Dorset artist Andrea's passion for colour shines through with her wonderfully vivid depictions of wildflowers using impasto or oil paint applied with a painting knife. She starts by washing layers of acrylic paint over the surface, then sculpts thick paint over the top to create the shapes of petals and leaves. Stalks are simply scratched through, revealing the multilayers of paint beneath. 
Coastal landscapes and people are also subjects of choice, and Andrea has a newly developed passion for street scenes, market stalls and shop fronts!
We've originals - both framed and unframed canvases - prints on canvas, and art cards for sale.
Yes please!
Sign me up for your occasional newsletter to receive special offers, news and promotions.
We use cookies to ensure you get the best experience on our website. Is this OK?
Yes
No
Learn more »