Gift Shop & Gallery Inspired by the English Countryside & Coast
Login
Log in if you have an account
Dont have an account? Register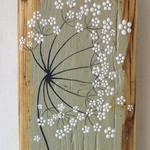 Emma Jane Collection
Pretty hand-painted driftwood; each piece of wall art is totally unique.
Emma Jane creates beautiful plaques from repurposed driftwood and paint. Her inspiration comes from the rugged Cornish coast where she grew up, and the county's character can be seen in the organic lines of her work. Now living near Christchurch she has access to fabulous pieces of wood washed ashore, which she turns into artwork using reclaimed paints.  Part of her love for driftwood stems from the idea that it has a past we can only imagine.  
We have listed some of her smaller pieces, but for a larger selection of shapes and sizes come and see what we have in the gallery, or contact us with an idea of what you are searching for.  Emma's largest pieces measure around 1.2m long and make a fantastic feature above a bed or mantlepiece --they are often horizontal and have proved to be the perfect hard-to-find piece for a specific spot in the homes of some of our customers.