Gift Shop & Gallery Inspired by the British Countryside & Coast
Login
Log in if you have an account
Dont have an account? Register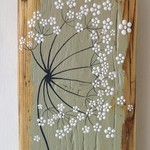 Emma Jane
Rustic Painted Wood Art
Emma Jane creates beautiful plaques from repurposed driftwood and reclaimed paint, usually featuring flowers such as cow parsley or dandelions.
We have listed some of her smaller pieces, but for a larger selection of shapes and sizes come and see what we have in the gallery, or contact us with an idea of what you are searching for.  Emma's largest pieces measure up to 1.8m long and make fantastic feature art above a bed or mantlepiece -- they are often horizontal and have proved to be the perfect hard-to-find piece for a specific spot in the homes of some of our customers.
We often struggle to list all Emma's work before selling it, so we tend to leave a few samples of her work on the website even if they have sold, to give you an idea of what she does. Please contact us if you would like more information about what we have in stock.