Gift Shop & Gallery Inspired by the British Countryside & Coast
Login
Log in if you have an account
Dont have an account? Register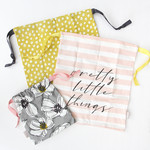 Accessories
A selection of pretty accessories for her, and some stylish gifts for men.
We've wraps, scarves and hair accessories, as well as bamboo or organic cotton socks - always popular presents, especially as most come boxed or with some type of gift wrap option for free. 
There are rucksacks and bags, as well as purses, cosmetic and makeup bags. We've 'On The Go' accessories too, such as key rings, glasses cases, fold-up shopping bags and jewellery / storage pouches.
And of course, a wide range of unusual jewellery (including cufflinks), much of which is handmade.
For cosmetics, please see Beauty & Skincare
Yes please!
Sign me up for your occasional newsletter to receive special offers, news and promotions.
We use cookies to ensure you get the best experience on our website. Is this OK?
Yes
No
Learn more »