Gift Shop & Gallery Inspired by the English Countryside & Coast
Login
Log in if you have an account
Dont have an account? Register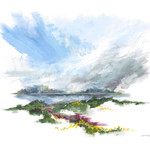 Eleanor Spalding Originals, Prints & Cards.
'En Plein Air' landscapes painted with oil-bars. Stunning originals, prints and cards.
Swanage-based artist Eleanor chooses to paint 'en plein air' wherever possible, which gives her work a freshness, as does her choice of materials.  By using oil bar and oil pastels she is able to create wonderful textures that 'melt' into the paper. These materials have the buttery consistency of oil paint, but with the immediacy and ease of charcoals and pastels, which means she uses no brushes at all.
Her work often plays with the use of whitespace and rich, natural colours that explode from the centre of the frame in a vibrant and exhilarating way that captures the elements within a landscape, whilst creating a sense of movement. 
We have a selection of her work for you to buy online.  Small/medium prints can be posted: Larger prints and originals are available for you to Click & Collect from our gallery in Corfe.