Gift Shop & Gallery Inspired by the British Countryside & Coast
Login
Log in if you have an account
Dont have an account? Register
About us
We're a small, independent gift shop and gallery in the heart of Corfe Castle village, in the Isle of Purbeck, an area of outstanding natural beauty on the Jurrasic Coast in Dorset.
We sell unusual and lovely art, handmade crafts and gifts: all largely inspired by gardens and plants, the English countryside and coast. 
Gardening gifts and garden decor; homeware and accessories; craft supplies and kits; jewellery and ladies accessories; gifts for men and children; art and crafts; cards and wrap.
Our Story
We never intended to open a shop, but fell in love with a house in the village of Corfe Castle, which came with a picture-postcard shop.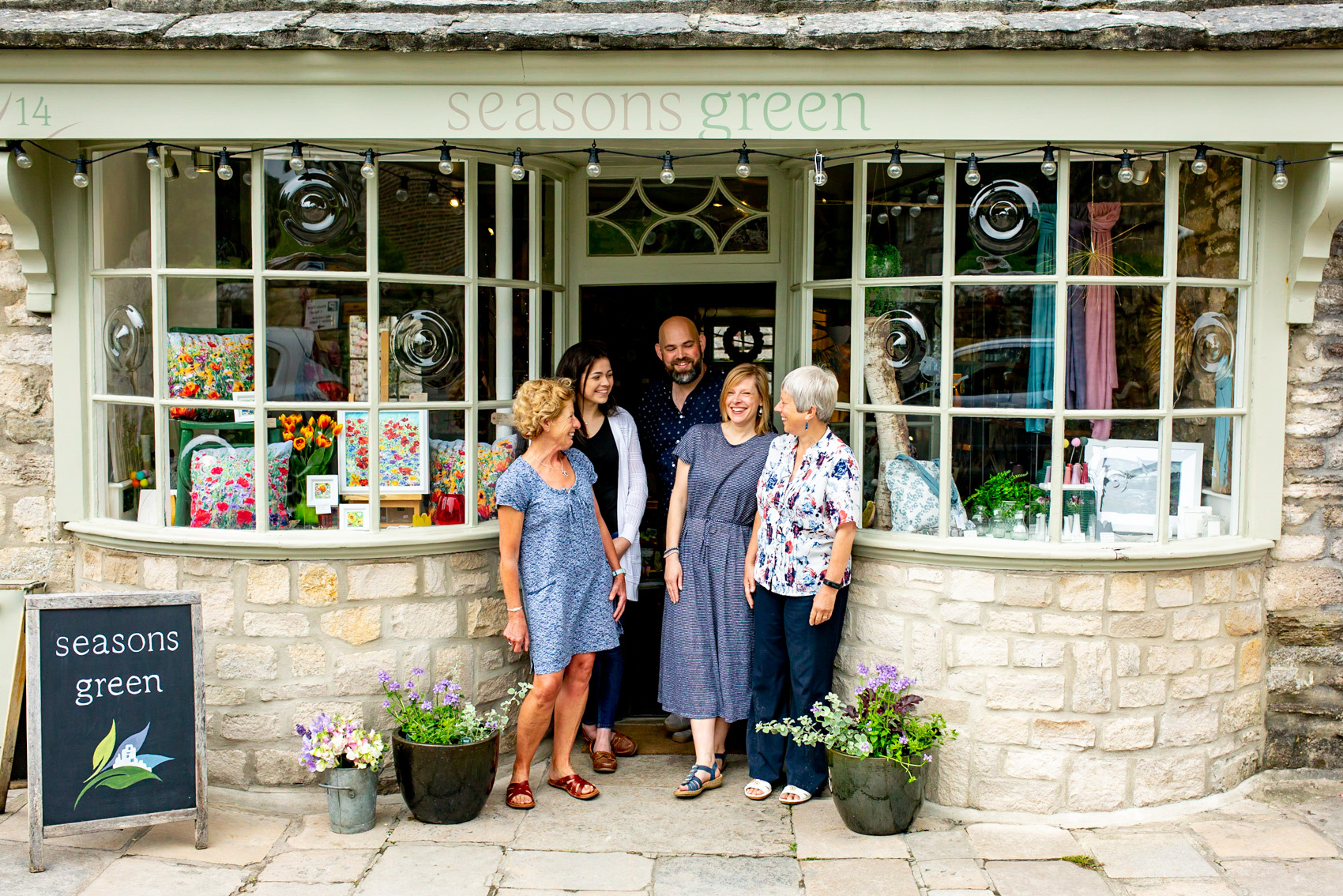 Originally used as a studio for my garden design business, it seemed a shame not to allow passers by to share the 17th century interior, complete with inglenook fireplace made from materials stolen (before our time!) from the castle.
The idea of a shop began to take shape, and I made a few enquiries.  The best piece of advice I was given (by several people in retail) was 'Don't stock what you like, stock what you think people will buy', which perhaps explains why so many shops look the same.  And where's the fun in that - for me or our potential customers?  Instead I decided to fill a shop with things I would love to buy and see what happens.
So we created Seasons Green, which celebrates

British independent makers

,

artists and craftspeople

, as well as selling some well-known larger brands.  We pride ourselves on being

different

, sourcing
interesting

ranges of products from all over the country, and working our local community of makers and businesses too.

 

We opened in 2015, and it's turned into something I hadn't thought about when considering the process of opening a shop:  A kind of extended 'family', because it involves people.
Our Family
There are you, our fantastic customers, many of whom are now friends.  Some of you live here; some visit regularly - the Jurrasic Coast is such a draw (blog post on the area coming soon); and some of course just visit once. 
There are our suppliers - again, so many new friends to be found amongst them - and its great to support such talent.  You can read more about them in Our Artists Gallery and Meet Our Makers pages.
Finally there is the Seasons Green team of staff, some of whom have since moved on, but who will always remain part of the team (names - and photos! - of our current team coming soon).
With this website we hope to add many new customers and friends - some of whom we may never meet, but all of whom we appreciate.   But please do come and visit if you ever get the chance - Purbeck really is a trip worth making - and you can be sure of a warm welcome at Seasons Green. 
And
'Seasons Green'

?

I honestly thought I read the phrase in a book of poetry, but when I tried to find it again I couldn't! I don't know where the name came from but it stuck and seems to sum us up pretty well.

 

Sophie and the Team at Seasons Green x

 

 

ps A blog post on the history of our shop is coming soon.  If you have any photos or information about the various incarnations of 'Hatchards' (the name it has most commonly had during the century or more it has been a shop) please email us.