Gift Shop & Gallery Inspired by the British Countryside & Coast
Login
Log in if you have an account
Dont have an account? Register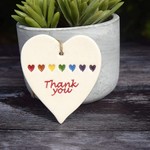 Broadland Ceramics
Handmade Ceramic Plaques, Dishes & Bunting
What started as a hobby making ceramics to sell on market stalls has become a full time business for Cheryl Haines, assisted by her sister Sharon, their Dad Alan and a couple of part-time local ladies.
Each ceramic is hand-made in a studio in Cheryls home in rural Gloucestershire, and they are constantly working on new ideas.
'Broadlands really is the epitome of a business who had a dream and turned it into a reality and we very much look forward to what the future brings.'
Yes please!
Sign me up for your occasional newsletter to receive special offers, news and promotions.
We use cookies to ensure you get the best experience on our website. Is this OK?
Yes
No
Learn more »