Gift Shop & Gallery Inspired by the English Countryside & Coast
Login
Log in if you have an account
Dont have an account? Register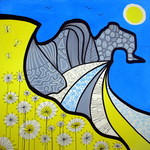 Gina Marshall
Gina's colourful work is inspired by zentangle, patchwork and pointillism.
Gina is an artist based in Swanage, in Purbeck, who works with bright bold colours to create a unique interpretation of the Dorset coast and countryside. She is heavily influenced by linocuts, zentangle, patchwork and pointillism, and uses ink to give the depth of colour for which she is known.  She then adds detail with fineliner ink pens, often creating depth of tone with tiny patterns which can only be appreciated when observed up close.  The ink and fineliners used are water and light resistant.  
Her abstract visions of Dorset landscapes capture some of our best-known landmarks in a contemporary and exciting way, and we have an exclusive range showing Corfe Castle throughout the four seasons, which make a great set, either as cards or mounted prints.