Gift Shop & Gallery Inspired by the British Countryside & Coast
Login
Log in if you have an account
Dont have an account? Register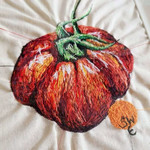 Suzy Wright Art
Machine Embroidered Textile Art & Watercolour Paintings
Each of Suzy's vibrant textiles contain over 200 threads, blended together to create a highly textured work of art. The calico cloth is allowed to distort under the needle of the sewing machine, and threads are left loose - as a tangible expression of the creative process. 
Watercolor paintings form the inspiration for each piece, and make stunning art in their own right.
Suzy has worked for famous names such as Zandra Rhodes, Kaffe Facett and Candace Bahouth, and in 2020 she won Sky Portrait Artist of the Year. 
Yes please!
Sign me up for your occasional newsletter to receive special offers, news and promotions.
We use cookies to ensure you get the best experience on our website. Is this OK?
Yes
No
Learn more »