Gift Shop & Gallery Inspired by the British Countryside & Coast
Login
Log in if you have an account
Dont have an account? Register
Lucy Tidbury Talks Cows, Dogs and Hippos...
25 Jun 2020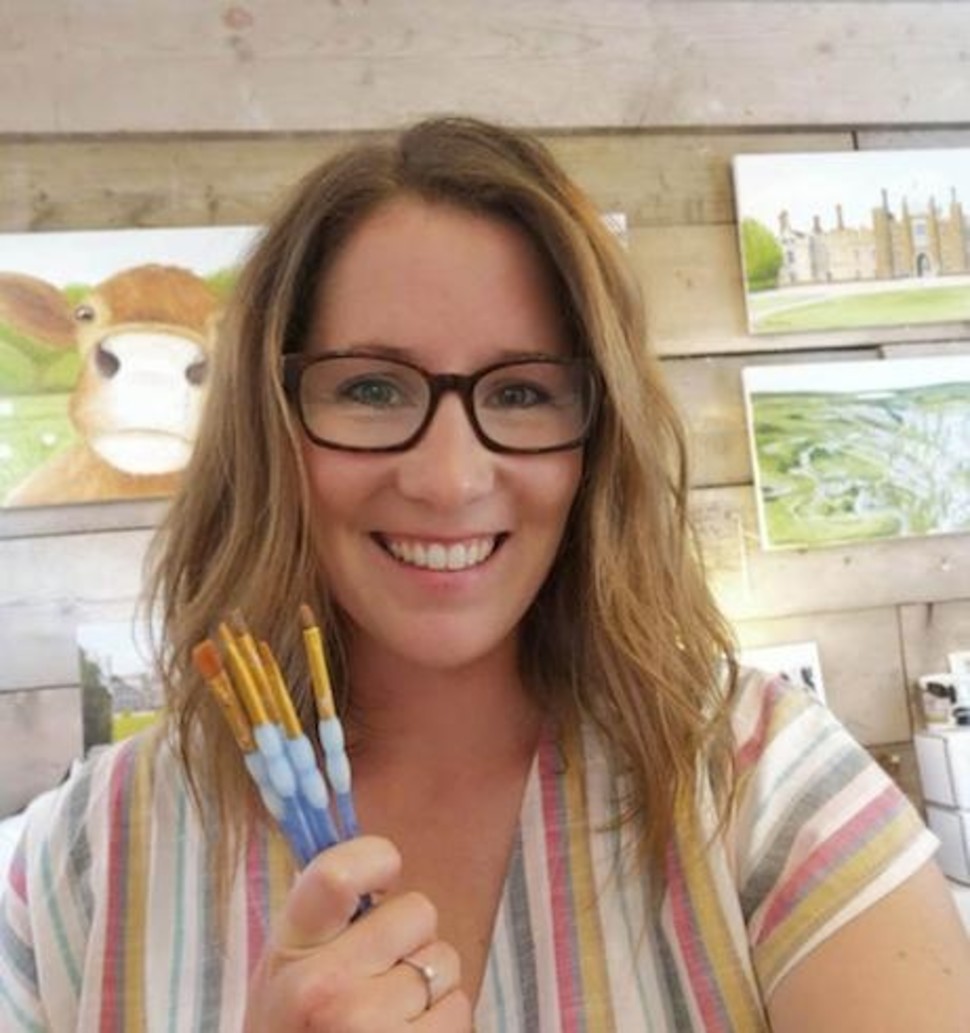 Lucy's Farm is a range of art and art gifts designed, painted and created by the very talented (and lovely) Lucy Tidbury.
As long-time stockists, we're delighted by her success - no doubt down to a combination of talent and a tireless work-ethic (with some help from her right-hand-'man' Ned, her cocker spaniel who accompanies her pretty much everywhere).  
We recently persuaded them both to sit down for five minutes and then fired some quick questions at Lucy to see what makes her tick. 

If you weren't an artist, what would you be?
Tough question, if I could choose it would probably be something to do with dogs, maybe a dog walker, or just have a big rescue home full of dogs! But if I hadn't made the choice to be a full time artist I would probably still be in the job I was in before which was in HR for an insurance company (boring I know!) 
Are you doing what you thought you would when you decided to become an artist?
Yes, and a lot more! When I first went full time as an artist I never would have expected to have come as far as I have in that time, my business has grown relatively quickly in that time but have loved every minute 
Do you enjoy making or selling your work the most?
Another tough question, to be honest it can really depend on how I feel, sometimes I could sit and paint for days on end, without seeing or speaking to anyone, other times I can't face picking up a paintbrush and would love to be out and about at exhibitions, meeting new customers and other artists
Are there any surprising bits of the process you enjoy?
It's quite rare for an artist to like the admin side of a business but I actually quite enjoy doing the odd spreadsheet every now and again! I've learnt over the years that it doesn't matter how talented you are as an artist you can't make it work as a business if you cant do the business side of it all
Who, or what inspires you the most?
The Dorset Countryside, every day I walk my dog Ned around our beautiful county and every day I'm inspired by what I see and who I meet, particularly the four legged residents! If I ever feel a bit overwhelmed or stressed out with anything I go for a walk or run over the Purbeck Hills and come back feeling better and inspired. 
You have a very distinctive style:  Did it come quickly, or take a long time to develop?
I think my style has developed ever since University, it was in my final year at Uni (back in 2007!) that I really started to discover my own style, so I have built on this ever since, it has changed and matured a lot since, sometimes I look at work I did years ago and just cringe, but I think most artists I know feel the same. 
Where do you work?
I do a lot of my painting in my shop in Swanage, but sometimes if I have to really focus on something or I'm on a tight timescale I love to paint in my summerhouse in my garden, its like a little retreat!
Do you have any regular studio companions (colleagues, pets, customers etc)?
My Spaniel Ned, most people who come to my shop would probably have met him, I even have people come in just to see him which is always funny, he comes everywhere with me, to shows, to the shop, out and about on deliveries. He really is part of the business. 
Do you work in silence or listen to something?  If so, what?
I do struggle painting in silence so I often have the radio on for a bit of background noise if I'm at home, but in the shop it tends to be a little quieter, but I have mastered the art of painting while chatting to visitors and customers! 
What 3 things would you save from your studio if it caught on fire?
Ned, my disgusting box of oil paints, the portrait I painted of Ned which hangs in my shop
Are you a 'travelling' artist (sofa, garden, on-the-bus 'scribbler') or does all your work happen at your desk?
On occasion I have been known to do a few sketches when I'm out and about but not often, most of my work is done in my studio/summerhouse, especially as I work in oils it's a tricky medium to transport!
Besides art material, what else do you have on your desk whilst you work?
Always a cup of tea, which is usually cold and my laptop as I often work from photos which I have on the screen (the keyboard is covered in paint!) 
Most proud professional moment?
Opening my own shop in 2017. Something I never dreamed I would be able to do, it felt such an accomplishment and really made me feel my business was now a proper established brand
Is there any animal you couldn't bear (no pun intended) to paint?
Probably a snake, I have a bit of a phobia which wasn't helped by a few encounters whilst travelling in Australia! 
And is there one you are desperate to do?
Probably a hippo, they were always my most favourite animal when growing up, I remember my bed as a child being covered in cuddly toy hippos (I think I might even still have a few somewhere, if my niece hasn't stolen them!) I was very luck to go on a safari in South Africa last year and took some fabulous photos so you never know maybe 'Lucy's Farm' will expand to 'Lucy's Safari' as well one day!